International campaign Stop Colonialism-Haiti
Details

Published:

21 August 2011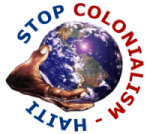 Colonialism Reparation launches the international campaign STOP COLONIALISM-HAITI aiming for reparations of damages caused by colonialism.
Colonialism Reparation, an international movement for the aknowledgement, the reconciliation, the apologies and the reparation of colonialism, inaugurates on August 23 2011, International day for the Remembrance of the Slave Trade and of its Abolition, the international campaign STOP COLONIALISM-HAITI.
The campaign, conceived to be spread on the web, aims to raise awareness on colonialism and to give everyone the possibility to disassociate from colonial and neo-colonial policies by sending to governments (and in copy to the UN) a letter of pressure to claim reparations for the damages caused by colonialism. Haiti has been chosen as the beneficiary of this campaign as a symbol of colonial oppression and, above all, of the rebellion against it.
The campaign STOP COLONIALISM-HAITI is made up of two modules, designed for citizens of both colonizing and colonized countries. The former, as a form of dissent from colonialism, will sign the declaration, will pay a personal and symbolic reparation of 10 euro and will send letters of pressure to the governments, while the last mentioned will express their dissent by subscribing the declaration, by spreading the campaign and by sending letters of pressure to the governments so that everyone will actively take part in the campaign.
At the end of the campaign, both the money raised and the list of the subscribers will be delivered to the haitian people through some local associations, as a symbol of reparation between peoples who aspire to overcome one of the darkest pages of history.